In the Valley this week, 140 grocery workers voted to join a union, mental health workers rallied for a fair contract, and a Northampton solidarity action was announced for striking Wal-Mart workers. These photos show a November 16 rally by workers at the Brattleboro Retreat mental hospital; some 500 workers there belong to the United Nurses and Allied Professionals Union www.unap.org.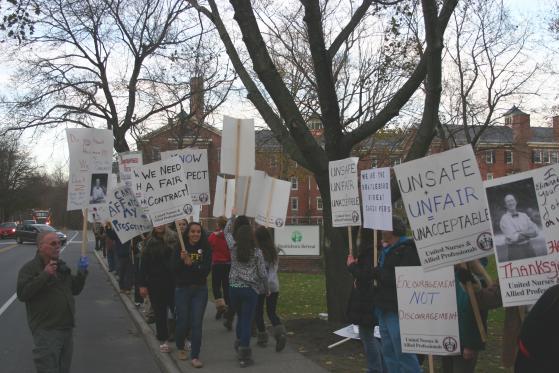 On November 14,workers at the Brattleboro Food Co-op voted 74 – 45 to join the United Food and Commercial Workers Union Local 1459 www.ufcw1459.com. About 160 people work at the co-op; about 20 of them are bosses.
On November 23 in Northampton, Jobs With Justice www.jwj.org will hold a solidarity rally for striking Wal-Mart workers. The action starts at 10 a.m. at the Northampton Wal-Mart.
In recent decades, the richest Americans have gotten richer, while the middle class has gotten smaller and the ranks of the poor have swelled. Union workers in the U.S. make about 29 percent more money than non-union workers. That's around $9,300 a year extra for the average worker who joins a union. For Latino workers, the union advantage is about 50 percent; for black workers, approximately 31 percent. This data is from www.bls.gov.
Millions of workers in the U.S. are union members, including workers at Stop and Shop and UPS.
Non-union workers can be fired at any time for no reason. Workers who belong to a union can only be fired for just cause.
More information about unions in the Valley is at:
To enlarge a photo, click on it, then scroll down and click "See full size image." photos by Eesha Williams