President Trump wants to cut taxes for billionaires, and help fossil fuel companies make climate change worse. In the Valley on November 8 and November 10, hundreds of people attended rallies calling on politicians to fight Trump's agenda. Raising taxes on billionaires would make it possible for the government to cut taxes for everyone else, improve Amtrak, and help poor people in Africa, among other possibilities.
Around 300 people attended the rally in Amherst, which was organized by Patricia Fiero. "It went well," she told the Valley Post in a telephone interview. The organizers of the rallies have a web site at www.MoveOn.org. It says, "We envision a world marked by equality, sustainability, justice, and love."
Erin Freed organized one of two simultaneous rallies in Springfield. Hers was attended by 51 people. "This won't be the last time that we do this," she told the Valley Post in a phone interview after the rally. "I think we'll keep getting more and more people."
The below photo from her rally was provided by Freed. To enlarge the photo, click on it, then scroll down and click "see full size image."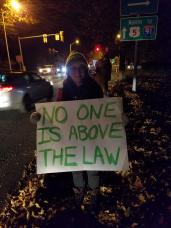 Steve Harvester organized the other Springfield rally, which 62 people came to. "The rule of law will prevail in this country," he told the Valley Post. "The truths being discovered by the Mueller probe will come out. A Democratic House will act on those findings."
More than 100 people were at the Northampton rally.
About 70 people attended the rally in Putney, Vermont, near Brattleboro.
There were rallies in Brattleboro and Greenfield.
More than 50 people attended the Keene rally.
In other Keene news, on November 10, the teachers' union held a rally at Central Square. More than 100 people were there. The goal was to win a fair union contract. The teachers have a web site at www.nea.org.