Vermont is known for several aspects of the good life—breathtaking, mountainous scenery; a reduced focus on materialism; and a never-ending stream of organic, local cuisine. This cultural oasis with a northern clime is not, however, known for its wine or viticulture. In fact, the stereotype is that only tart, overly sweet, highly acidic fruit wines are produced here, because blueberries, apples, rhubarb and cranberries can thrive where grapes cannot.
-------------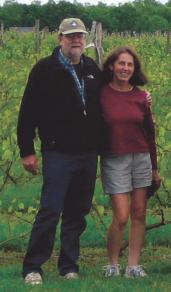 Photo: Steve Robbins and Mame Odette of Poocham Hill Winery and Vineyard in Westmoreland, New Hampshire, between Brattleboro and Keene. (Click photo to enlarge.)
-------------
This is a vast misconception. It is true that the noble grape varieties—Cabernet Sauvignon, Pinot Noir, Merlot, Sauvignon Blanc, Riesling, etc.—as well as other varietals that consumers are commonly familiar with cannot thrive in New England's climate. But thanks to Minnesota viticultural pioneer Elmer Swenson (1913-2004), who revolutionized the capacity for grape growing in the cold and short-seasoned regions through extensive creation of French-American hybrids, Vermont has a cache of wine grape varieties to call its own. Frontenac, Marquette, St. Croix, Marechal Foch and LaCrosse may not yet be as familiar in international wine markets as, say, Chardonnay, but a handful of vintners and wineries all over the state have been working diligently over the past decade to perfect the craft of effectively growing them and coaxing world-class artisan wines from their stock. A primary struggle for New England vintners is lowering acidity caused by lack of sun, as opposed to working to keep alcohol levels down as vintners do in hotter climates.
The majority of Vermont's vineyards are in a youthful phase, as it takes several years to establish grape vines, and boutique wineries dominate the industry. There are also larger wineries that in the past outsourced grapes from California and are now integrating their own vines into their inventory. One of these enterprises is Honora Winery and Vineyard in West Halifax.
Patricia Farrington founded and is CEO of Honora. "Wineries and vintning go together like peanut butter and jelly, right?" asks Farrington. "Wrong. Every single one of the Napa Valley wineries outsources for grapes. For example, if one is known for Cabernet, it concentrates on growing that and outsources for Chardonnay. So we are not far behind the trend."
Honora, at 2,000 feet above sea level, has six varietals planted on a large hill behind the chateau, honoring the tradition of slopes being excellent for vine growing. As of yet, Honora's vines have not experienced any winter damage—a testament to the resilience of the cold-hardy varieties. Their first Vermont-grown wines—which may include Frontenac, LaCrescent, Leon Millot, Marechal Foch or Marqette--will be available in the fall, and a sumptuous port crafted from grapes harvested in 2008 will be ready in 3 years.
If the quality of Honora's current selection is any indication, these produits du terroir will be nothing short of superb. Their 2003 Cabernet Sauvignon, available now, owns a light, translucent mauve hue. The nose is that of plum and blackberry, wafting outward with a mellow, yet vibrant and distinct character. On the palette, this Cabernet, though slightly tart, owned a soft, medium-bodied feel and gently spicy finish.
A nearby boutique winery, just across the Connecticut River in Westmoreland, New Hampshire, has been experimenting with cold-hardy vines for ten years and distribute much of their wine freely to friends and institutions in the twin-state area. Steve Robbins and his wife Mame Odette run Poocham Hill Winery and Vineyard. Though they are members of the New Hampshire Winery Association, their commercial license is in the works, and the decade of practice has them well prepped to make a mark in the budding industry. They specialize in dry reds, and their 2007 Marechal Foch is an interesting example of the singular characteristics indicative of Swenson creations. The energetic purple hue and pungent mineral nose set the stage for an essence of black fruit and coffee undercut with mineral flavors on the palette.
An alert to the wine world: New England is on its way.
--------
This article originally appeared in Southern Vermont Arts & Living magazine.