Brattleboro residents defeated a plan by the administration of lame duck Republican governor Jim Douglas and lieutenant-governor Brian Dubie – the Republican who wants to be elected governor in November – that would have narrowed already-narrow sidewalks in downtown Brattleboro. The goal was to make cars, trucks, and SUVs drive faster through the world-famous, historic downtown on the shore of the Connecticut river. Dubie-Douglas also wanted to cut down trees on Main Street.
"We will not narrow any sidewalks or cut down any trees," a town of Brattleboro spokesman told the Valley Post. The announcement came after a packed public hearing before the select board on July 6. Dozens of citizens showed up to oppose the Dubie-Douglas scheme.
"It was a poor choice," Alice Charkes said of the Dubie-Douglas proposal. She lives in Brattleboro and is a director of the Vermont Bicycle and Pedestrian Coalition.
One of Dubie-Douglas's employees told the Brattleboro select board last month that the state would soon narrow some sidewalks on Main Street whether the town liked it or not. But some members of the select board – and more members of the public – put up a fight.
Leading the fight for better and bigger sidewalks and bicycle paths in Vermont is John Ewing. He's founder and board chair of a non-profit group called Smart Growth Vermont. Former governor Dr. Howard Dean appointed Ewing to serve on the Vermont Housing and Conservation Board (VHCB) which has played a key role in saving some 500,000 acres of farmland and forest land in Vermont from "development" in recent decades. VHCB also created hundreds of low-rent, energy efficient apartments in downtown Brattleboro and other Vermont towns. A graduate of Yale Law School, Ewing was president of the Bank of Vermont.
In related news, on the afternoon of June 2, a car hit three people who were walking on a sidewalk in downtown Brattleboro. One of the walkers was taken to the hospital with a broken leg. Brattleboro police have the name of the driver but have not yet said if they will press charges.
Rep. Virgina Milkey is a member of the state legislature from Brattleboro. "Isn't there something better we could spend our money on than narrowing the sidewalks?" she said. Milkey said that Brattleboro select board member Dora Bouboulis is gathering signatures on a petition opposing the Dubie-Douglas plan.
On June 5, Peter Shumlin told the Valley Post, "I will fight to ensure that Brattleboro's sidewalks are not narrowed." Shumlin is president of the Vermont senate and the only Democrat from the Brattleboro region who's running for governor.
More information is at www.SmartGrowthVermont.org and www.VTBikePed.org and www.ShumlinForGovernor.com
--------
This photo of downtown Brattleboro was taken on June 4 by Eesha Williams.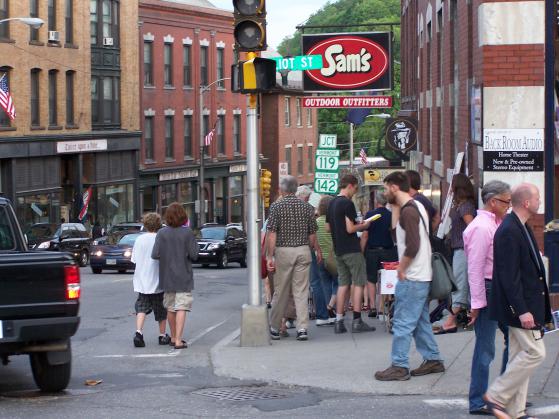 --------
This article replaces a shorter version that was published on 6/30/2010.