In Northampton on August 13, hundreds of people attended a rally to protest racist violence in Charlottesville, Virginia. The same day in Keene, about 60 people attended a rally for the same cause. On August 14, about 80 people attended a rally for the same cause in Greenfield. On August 15, dozens of people attended another rally for the same cause in Springfield.
The Northampton event was organized by Jobs With Justice, the NAACP, and other groups. "We grieve for the lives lost and pray for those critically injured because of the domestic terrorism committed in Charlottesville," said Sarita Gupta, the director of Jobs With Justice. The Keene rally was organized by Becky Karush. The Greenfield event was organized by Trystan and Arjuna Greist. The Springfield rally was organized by a group that has a web page at www.facebook.com/AriseForSocialJustice. On August 15, president Trump spoke in defense of violent racists.
The below photo of the Springfield event was taken by Elizabeth Caretti Ramirez. To enlarge the photo, click on it, then scroll down and click "see full size image."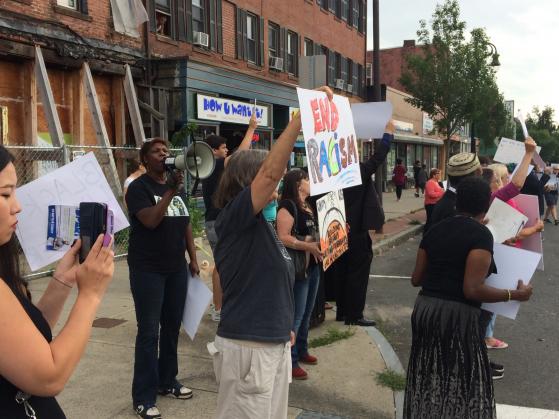 In environmental news, 10 people were arrested for non-violent civil disobedience August 9 in the Connecticut river valley town of Sandisfield, Massachusetts. They were protesting the construction of a fracked gas pipeline. The Sugar Shack Alliance has organized a series of civil disobedience arrests in Sandisfield this summer.
In democracy news, on August 12 near Keene, about 40 people marched six miles to call for campaign finance reform. Members of Congress take millions of dollars from rich people to pay for TV commercials for the politicians' election campaigns. Most of these rich "donors" want something in return. If they have employees they often want to prevent increases in the minimum wage (the richest family in the world, the Waltons, own Wal-Mart).
If they own stock in Exxon Mobil they may want to prevent a tax increase on oil and gas that could improve Amtrak. If they own a company that makes bombs for the Army they want to keep military spending high. Most rich people don't want increased taxes on rich people. So they invest in politicians' elections campaigns.
"It's legalized bribery," said Fred Wertheimer, a nationally known campaign finance reform activist. The August 12 march was organized by a group that has a web site at www.OpenDemocracyNH.org.
Adam Smith works for www.EveryVoiceCenter.org. That's a group that advocates ending rich people's control of American politics. Smith told the Valley Post that Connecticut enacted the kind of campaign finance reform his group advocates at the state and federal level. "Connecticut enacted its system in 2008," he said. "Since then, the state became the first in the nation to pass paid sick days legislation, and the first to increase the minimum wage to $10.10."
In labor news, on August 11, the National Labor Relations Board announced that about 100 workers at Cooley Dickinson hospital in Northampton had voted to join a union. The workers have a web site at www.seiu.org. On average, workers in the USA make 27 percent higher wages when they join a union. That's according to www.bls.gov.